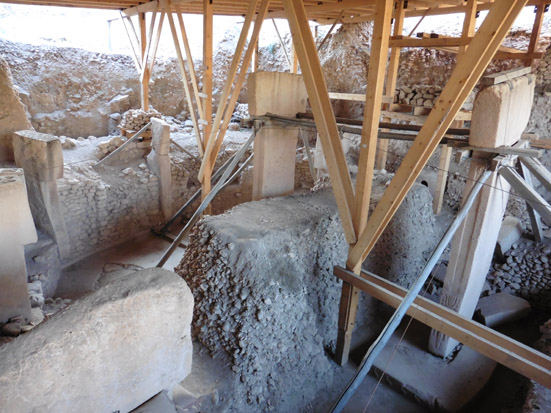 Gobekli Tepe's Enclosure D.
Andrew Collins and Megalithomania Present
Göbekli Tepe Mini Break
Saturday, October 15th - Sunday, October 22nd 2016
Explore Istanbul, Göbekli Tepe, Sanliurfa, Karahan Tepe, Harran and Nemrut Dag with Andrew Collins and Hugh Newman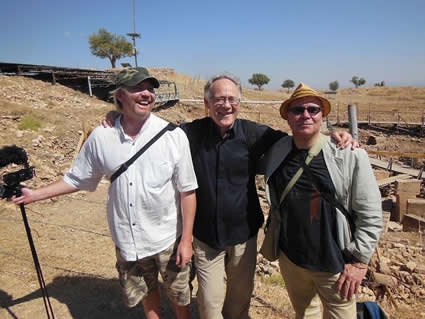 Hugh Newman, left, and Andrew Collins, right,
with Graham Hancock at Gobekli Tepe.
7 days/6 nights - Istanbul - Göbekli Tepe twice - Harran - Karahan Tepe - Sanliurfa - Nemrut Dag
DAY ONE / OCT 15. Arrive in Istanbul. Transfer to Turkoman Hotel in the downtown area of the old Constantinople, five minutes walk from the Blue Mosque, Hagia Sophia, museums and major bazaars. Evening meal included.
DAY TWO / OCT 16. Short orientation with tour hosts Andrew Collins and Hugh Newman. Visit the beautiful Blue Mosque and see the historic Hagia Sophia, a mosque and church at the heart of the Eastern Roman Empire. See the breathtaking Hidden Palace, an awe-inspiring underworld waterway that once served the Roman city of Constantinople. See enigmatic statues and pillars showing an assortment of Roman gods and goddesses. Lunch. Board flight to Ankara. Spend the evening in the city's lively centre.
DAY THREE / OCT 17. Easy morning. Take the afternoon flight to the ancient city of Sanliurfa, traditional birthplace of the prophet Abraham and seat of the biblical tyrant Nimrod, where you begin the second part of the tour.
DAY FOUR / OCT 18. In the morning make the short journey out to Göbekli Tepe, officially the world's oldest temple complex, built by the founders of civilization nearly 12,000 years ago. In the afternoon visit the ancient city of Harran, home of the Sabians and Chaldeans. See the ruins of the ancient university, visit the site of the temple of the moon god Sin, and climb the city's prehistoric mound. Visit the local shop and café in the nearby village with its historic beehive shaped houses.


Left, Göbekli Tepe's Enclosure D. Right, Enclosure D's Vulture Stone (Pillar 43).



Left, the ruins of the Paradise Mosque, Harran. Right, beehive huts at Harran.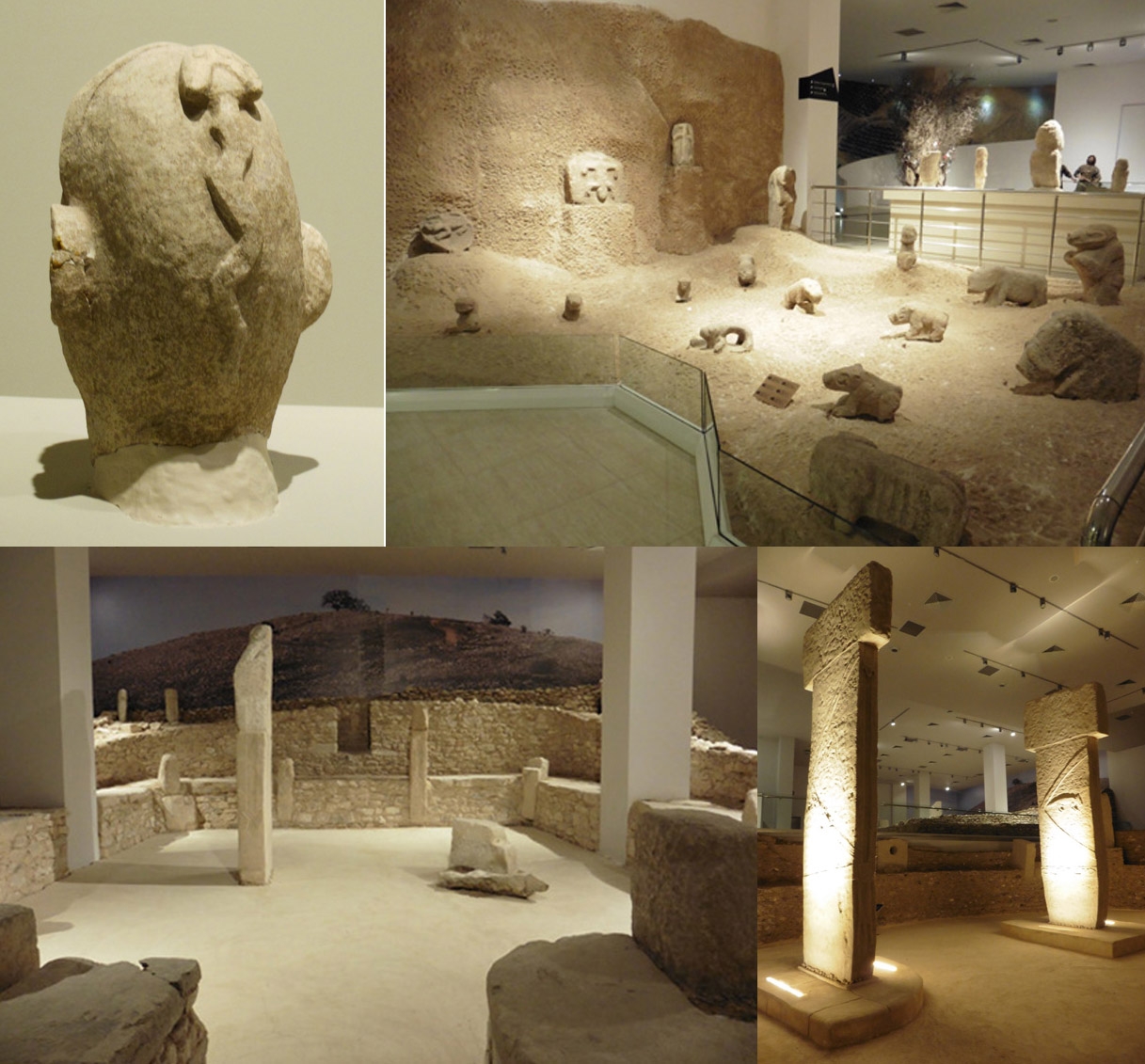 Above and below, left and right, exhibits in Sanliurfa's new archaeological museum.
DAY FIVE / OCT 19. After breakfast visit Sanliurfa's spectacular museum of archaeology, with its breath-taking displays of objects and pillars from Göbekli Tepe and other early Neolithic sites in the region. In the afternoon visit Sanliurfa's Pools of Abraham, and the cave said to be the birthplace of the great prophet. Experience the city's famous bazaar and suq market.


Left, Nimrod's Castle, Sanliurfa. Right, the pools of Abraham, Sanliurfa.
DAY SIX / OCT 20. Journey to the Tektek Mountains east of Sanliurfa to see Göbekli Tepe's sister site, Karahan Tepe. Visit Göbekli Tepe for a second time on this occasion without guidance to experience the site on a more personal level. Be at the site as the setting sun illuminates the interior of the main enclosures, providing a perfect opportunity for photographs and contemplation.
DAY SEVEN / OCT 21: Leave Sanliurfa and head north to Nemrut Dag mountain in Adiyaman province. On the way visit the Atatürk Dam and Euphrates river. See the Karakus tumulus, built by the Commagene king Mithridites II for his mother Isas. Inspect its strange columnal gateways and pillars and view its alignments into the local landscape. Continue to Hotel Euphrates and before sunset journey by vehicle to the base of Nemrut Dag. Climb its steps to reach the mausoleum of Antiochus III built in 62 BC. See its amazing pyramid of pebble stones and the strange stone heads of eagles, gods and kings that eternally gaze out over this mysterious landscape of the dead.
DAY EIGHT / OCT 22: Transfer to Adiyaman airport for return flight to Istanbul.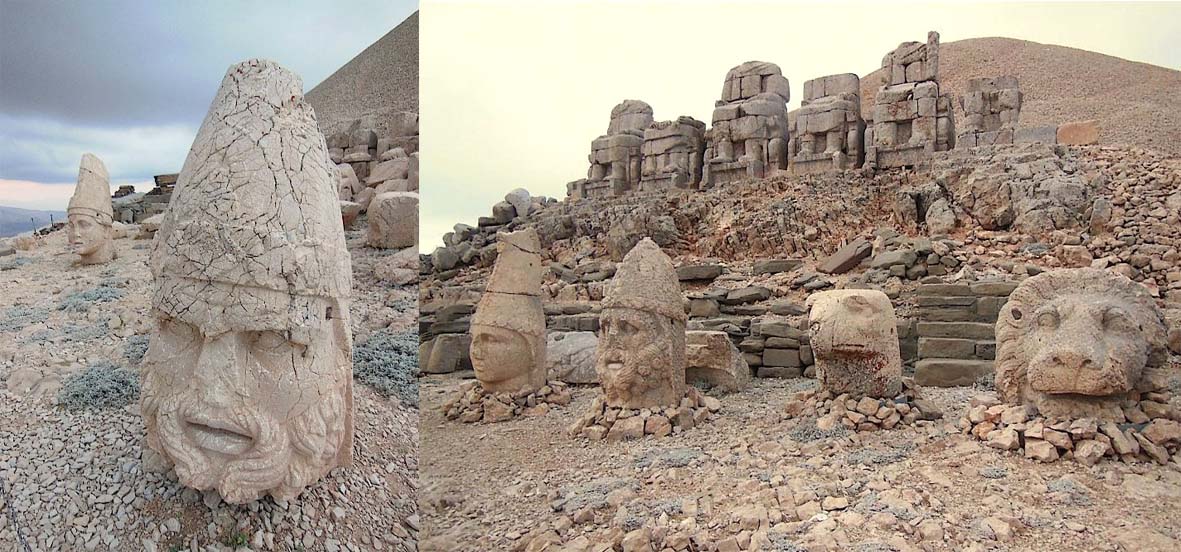 Left and right, the mountaintop mausoluem of Antiochus III on the summit of Nemrut Dag (Mount Nimrod).
GÖBEKLI TEPE MINI TOUR BEGINNING IN ISTANBUL AND ENDING IN NEMRUT DAG
7 DAYS/ 6 NIGHTS
Saturday, October 15th-Saturday, October 22nd 2016
(meet Istanbul Ataturk Airport)
TOUR INCLUDES:

- AIRPORT TRANSFERS FROM ISTANBUL AIRPORT, AND FROM AND TO SANLIURFA AIRPORT
- FLIGHTS FROM ISTANBUL TO SANLIURFA AND RETURN FLIGHT FROM ADIYAMAN
- ALL TRANSPORTATION TO AND FROM SITES
- ALL ENTRANCE FEES TO MUSEUMS AND SITES ON TOUR SCHEDULE
- HOTEL ACCOMMODATION IN ISTANBUL, SANLIURFA AND NEMRUT DAG
- ALL BREAKFASTS AND ONE OTHER MEAL PER DAY, EITHER LUNCH OR DINNER
- FULL TIME GUIDING BY A QUALIFIED TURKISH TOUR GUIDE

Cost per person based on double occupancy
£1450 (or $2250)
Single occupancy supplement: £250 (or $400)
TOUR DEPOSIT £400 ($600)
Pay deposit now using the PayPal button below to secure your place:
Pay deposit in Pounds Sterling:

Pay deposit in US Dollars:



IMPORTANT: Please read the Megalithomania terms and conditions prior to making your booking. These are available by clicking below:
TERMS AND CONDITIONS
For a tour to go ahead a required number of persons is necessary. Should that amount not be reached by a prescribed date, in this case, September 1st, the tour could be cancelled or altered. If you register to go on this tour, please do not purchase air tickets until confirmation is given. Those who do book tickets prior to confirmation of the tour's go ahead do so at their own expense. For all Terms & Conditions relating to Megalithomania Tours please click here
If you have any questions regarding any aspect of the tour, then contact either Andrew Collins or Hugh Newman at Megalithomania Tours, and we'll try our very best to help you.

Buy Andrew Collins's book
Göbekli Tepe: Genesis of the Gods
READ ABOUT WHO BUILT GÖBEKLI TEPE, WHEN AND WHY.
For more information on Göbekli Tepe:
Göbekli Tepe's Cosmic Blueprint by Andrew Collins
Andrew defines Göbekli Tepe's cosmic blueprint, showing that it is aligned to the Milky Way's Dark Rift and the bright star Deneb in Cygnus.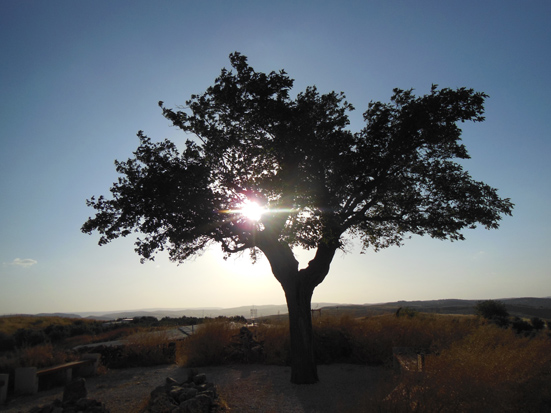 Fig-mulberry tree marked the summit of Göbekli Tepe