Find out when he is talking in your area,
and follow him on Facebook for updates on events and interests


JULY 2013

ANDREW COLLINS TO APPEAR
AT GLASTONBURY SYMPOSIUM IN JULY
Andrew Collins is key-note speaker for this years's Glastonbury Symposium in July

Glastonbury will see Andrew for a second time this year when he appears as the key note speaker on the Saturday night of this year's Glastonbury Symposium, which takes place between Friday to Sunday, 26th-28th July. He will demonstrate that in addition to nuts and bolts flying saucers from worlds afar there might be an even more exotic explanation to the UFO phenomenon, this being their identificaton as sentient plasma lightforms and constructs that exist on the edge of reality. They adbuct, cause EM effects, produce entities and traces, and are quite literally ET intelligences in their own right. For the weekend's full line-up and how to get tickets, click here

OCTOBER 2013

Sacred Space at Steiner House
7.30pm Thursday, 10th October 2013
Rudolf Steiner Hse, 35 Park Road, London NW1 6XT
| | |
| --- | --- |
| Andrew Collins - From Gobekli Tepe to Stonehenge: The impact of the world's oldest stone temples complex on civilization, myth and religion in the ancient world | |
Contact: Marion Briggs
Tel: 0870 766 9657* E-mail: marionbriggs148@btinternet.com
* charged at national rate
Entrance is £10 Concessions and donations possible - all welcome






Moot with No Name
7.30pm Wednesday, 16th October 2013
Devereux Arms, 20 Devereux Court, Temple, London WC2R 3JJ
Andrew Collins - Gobekli Tepe: The Truth About the World's Oldest Stone Temple

Everything you need to know about this 12,000 year old complex in SE Turkey, including its astronomical alignments, and connections with the Watchers of the book of Enoch, the Anunnaki of Sumerian tradition and Egypt's Elder gods
INTERDIMENSIONAL MINDS OF AWARENESS CONFERENCE
Andrew is guest speaker at the TAG conference at the Balmoral Centre in Southend on saturday, November 2nd. He will be talking about the LightQuest concept, and also the alien world of Göbekli Tepe in SE Turkey. Joining him on stage will be old friends Andy Thomas and Malcolm Robinson, as well as Ian R. Crane and David H. Boyle.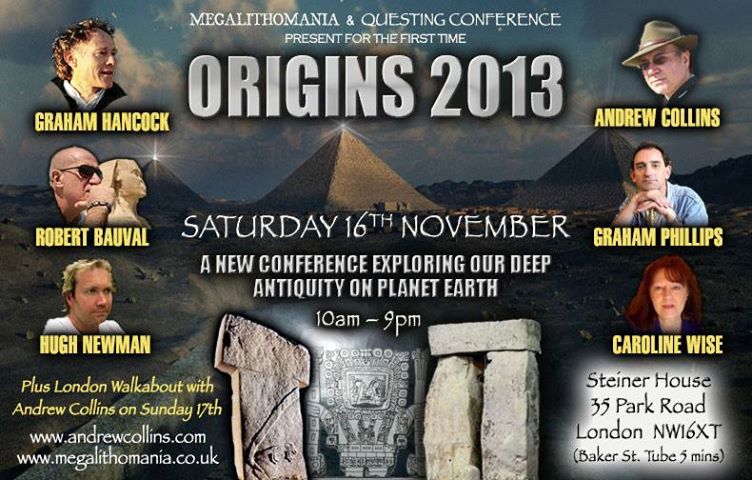 QUESTING CONFERENCE RETURNS IN NOVEMBER
After six years away the Questing Conference is back, with an event entitled Origins 2013, jointly organised with Hugh Newman and the Megalithomania team. It will take place over the weekend of Saturday/Sunday, November 16/17, 2013.

Day One, Saturday, 16th, will see a spectacular conference in the fabulous theatre at Steiner House, 35 Park Road, London NW1 6HT. Guest speakers include Graham Hancock, Robert Bauval, Graham Phillips, Hugh Newman, Caroline Wise, and Andrew himself.

Day Two, Sunday, 17th, Andrew will lead a party around the City of London on his celebrated London Walkabout, which takes in the Tower of London, London Stone, Mithraem, St Paul's cathedral, St Brides church, Temple church and St Clement Danes church.
TICKETS ON SALE NOW
For more information and tickets click here