Personal appearances by
Andrew Collins in 2014
Find out when Andrew is talking in your area,
and follow him on Facebook for updates on events and interests


Andrew Collins to talk at the London Forum


Date: Wednesday, February 19th, 2014

Archaeology's greatest discovery in the twenty-first century is Göbekli Tepe, a series of magnificent megalithic structures built as much as 12,000 years ago on an exposed mountaintop in southeast Turkey. Imagine Stonehenge, multiplied by ten, and covered in beautiful carvings of animals, birds, insects, and other forms of strange abstract art. This is Göbekli Tepe. So who built this stone temple complex, the earliest anywhere in the world? What was its purpose, and who constructed it, and why?

Ancient mysteries writer Andrew Collins is one of the world's top experts on Göbekli Tepe, having visited the site on various occasions over the past ten years. He has monitored discoveries there, and has just completed a book on the subject entitled "Göbekli Tepe: Genesis of the Gods" (Inner Traditions, 2014). He reveals everything you will ever want to know about this mysterious place, showing that its stone circles are astronomical observatories, built in response to something terrible that happened in the ancient world.

Venue: George Pub, upstairs bar, 213 Strand, London WC2 1AP

Start 7pm, main talk till about 8.30, then break for half hour, any food ordered at start of evening will be served then & we have our own bar.

Göbekli Tepe, SE Turkey. Who built it, and why?

Andrew is the author of many books that challenge the way we see the past, including "From the Ashes of Angels" (1996), "Gateway to Atlantis" (2000), "Tutankhamun: The Exodus Conspiracy" (2002), "The Cygnus Mystery" (2006), and "Beneath the Pyramids".

Good time for chat, & buying books etc.
9pm reconvene for questions & discussion, ending around 9.45.

Entrance is £8. Parking is easy after 6.30 in Essex St close by. Nearest tube Temple.

We are a Meetup group - web contact London Forum Meetup Group for Crop Circles and Other Mysteries.
Andrew Collins & Megalithomania Tours
Present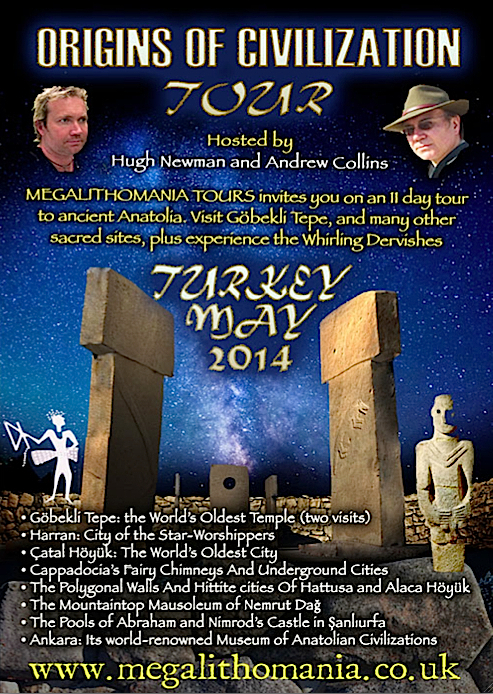 Origins of Civilization Tour
Monday, May 26th - Thursday, June 5th 2014

Join Andrew Collins and Hugh Newman when they return to Turkey in 2014

11 DAYS: Göbekli Tepe - Harran - Alaca Hoyuk - Hattusa - Ankara Museum - Catal Hoyuk - Nemrut Dag - Sanliurfa - Cappadocia - Derinkiyu & Kaymakli underground cities - Goreme rock churches - Ilhara Valley - Whirling Dervishes at Konya
(start at Anakara)
5-DAY EXTENSION: Troy -Assos - Pergamon - Ephesus - Tomb of Tantalus
Thursday, 5th June - Monday, 9th June, 2014
IT IS OUR PLEASURE TO ANNOUNCE THAT LOST CIVILIZATION RESEARCHER BRIEN FOERSTER WILL BE JOINING US AS A SPECIAL GUEST ON THE TOUR

Based in Cuzco, Peru, Brien is an expert on giants and skull elongation worldwide, and will be providing talks on these subjects during the tour
FOR THE COMPLETE DAY-TO-DAY ITINERARY,
PRICES AND ALL INFORMATION CLICK HERE
Andrew Collins to talk at Esoteria 2014 conference in Birmingham in June


Date: Saturday, June 28th, 2014

Andrew will appear at this new conference talking about Göbekli Tepe as a gateway to the stars. The event will run along similar lines as the Glastonbury Symposium/Exopolitics with a range of speakers covering alternative topics such as metaphysics, consciousness, UFO's, hidden knowledge etc.

Will bring you more on this event soon.

What is Göbekli Tepe?
Why is it a gateway to the stars?

Venue:

TBC
Andrew Collins and Megalithomania Presents

Megalithic England and
St Michael Line Tour
Saturday, July 12th - Tuesday, July 22nd 2014
Explore Stonehenge, Glastonbury, Avebury and Britain's St Michael Line with Andrew Collins and Hugh Newman

10 DAYS: Stonehenge - Avebury - West Kennet long barrow - Silbury Hill - Glastonbury Tor, Wearyall Hill, Abbey and Chalice Well - Brent Tor - White Ladies waterfall, Lydford - Hurlers stone circles - Cheesewring - Boscowen-un - St Michael's Mount - Merry Maidens stone circle - Men an Tol - includes private access to Stonehenge, visit to crop formation, all travel, board, breakfasts and most dinners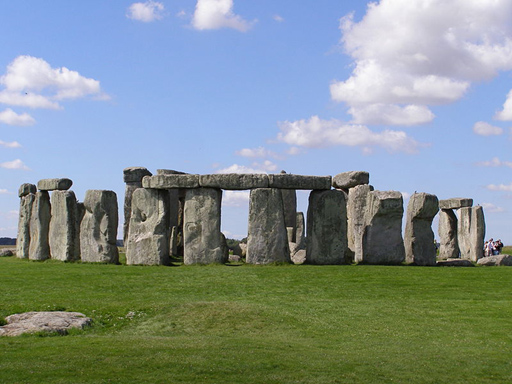 Stonehenge (Pic credit: Wiki Commons Agreement)

The St Michael Line is England's spiritual backbone, its longest ley (that is, ley line) running from the Norfolk coastline in the northeast to the edge of Cornwall in the southwest.
Join Hugh Newman and Andrew Collins in July on the 2014 Megalithic England and St Michael Line tour.

Details coming soon
Andrew Collins to talk at the Interdimensional Minds Of Awareness Conference 2014


Date: Saturday, August 22rd, 2014

Andrew will appear at this year's TAG conference in August talking about the LightQuest concept - the idea that UFOs are interdimensional energy forms that use the medium of plasma, the fourth state of matter, to interact with this world.

The venue is Westcliff's Balmoral Centre,

Address: The Balmoral Centre,
Salisbury Avenue, Westcliff-on-Sea, Essex SS0 7AU

Tel: 01702 351030


What are the strange energy forms we call UFOs? Where do they come from?
What do they want from us?
How can we contact aliens?
Andrew to appear at Edgar Cayce's ARE's Ancient Mysteries Conference at Virginia Beach in October

Dates: Thursday-Sunday, October 9-12, 2014

Andrew will appear at the ARE's "Mystery of Mysteries: Forgotten Worlds, Strange Myths, and Hidden Origins—Our Annual Ancient Mysteries Conference," alongside ancient astronaut theorist Erich Von Daniken, Susan B. Martinez, and alternative Egyptologist John Anthony West and author John van Auken.
Expect fascinating insights and vibrant images of lost cultures, hidden histories, and enigmatic places and creatures from across the globe, from ancient Sumeria and Egypt to the stars.

Andrew will be showing who built Göbekli Tepe, and why. He will also show its connection to the Edgar Cayce readings and Ra-Ta's journey from the Caucasus to ancient Egypt.



This event is already sold out!!

Venue: The ARE Headquarters, Virginia Beach, VA.

ORIGINS 2014?