Ancient Mysteries International and Hidden Knowledge Tours Present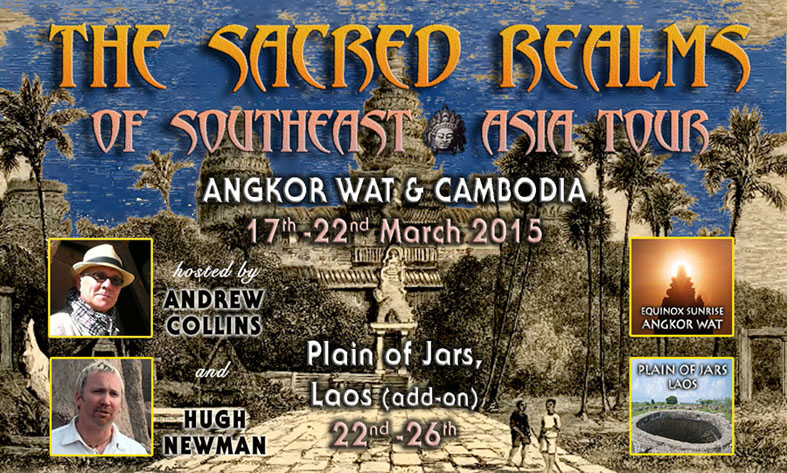 Visit Cambodia's magnificent Hindu-Buddhist temple complexes of Angkor Wat and Angkor Thom, and explore the Buddhist temple of Preah Vihear, which features cyclopean masonry of possible pre-Vedic origin. This special six-day tour is timed to coincide with the spectacular sight of the equinoctial sunrise, which aligns perfectly with the axis of the Angkor Wat ceremonial complex. Your hosts are Andrew Collins, author of many books that challenge the way we see the past, Hugh Newman, author of Earth Grids, and Bruce Cunningham, the proprietor of Ancient Mysteries International.

Optional four-day excursion to Laos with Andrew and Hugh to see the vast fields of mysterious, human-sized megalithic stone jars in the so-called Plain of Jars.
Please note that meal vouchers up to $10-15 will be issued each day for use in local restaurants.
Hidden Knowledge Tours
Presents Short Breaks to
G ö b e k l i --T e p e
and the surrounding area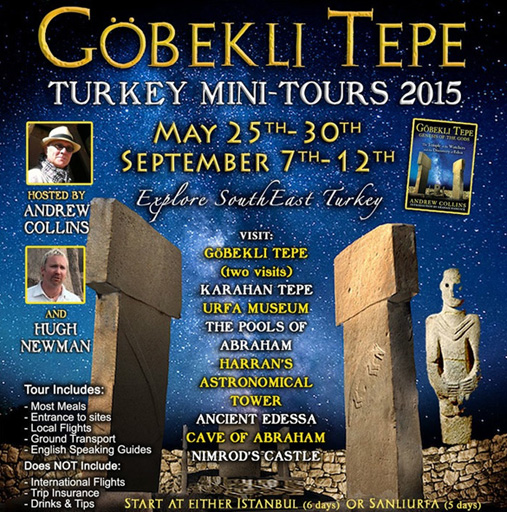 25-30 May 2015 and 7-12 September 2015
Explore Göbekli Tepe and the Mysteries of Turkey with special guests Andrew Collins and Hugh Newman
6 DAYS/5 NIGHTS: Göbekli Tepe - Harran - Karahan Tepe - Sanliurfa
Start the Tour either at Istanbul or Sanliurfa

Visit the magnificent Göbekli Tepe, the oldest stone temple complex in the world - the ancient city of Harran, with a history spanning almost 8,000 years - Sanliurfa, the birthplace of Abraham and the site of Turkey's most modern museum of the archaeology of prehistory - Göbekli Tepe sister site Karahan Tepe, which dates back almost 11,000 years
Special guests for the tour will be Andrew Collins, historical writer and author of the world acclaimed book Göbekli Tepe: Genesis of the Gods, and also Hugh Newman, explorer and author of international bestseller Earth Grids
Click for full details and immediate reservation
Watch this new video on Göbekli Tepe now with Graham Hancock, Andrew Collins and Hugh Newman recorded on a previous tour to the site in 2013
The tour is jointly organised by Megalithomania and Hidden Inca Tours. The above itinerary is subject to possible changes(for the better!)

The cost of the main tour is $3490 US Dollars. Single occupancy - extra $500. Includes flights, train ride and megalithic heaven.

ANCIENT TECHNOLOGY
PERU & BOLIVIA
TOUR 2015
Megalithomania and Hidden Inca Tours invite you on a once in a lifetime expedition
June 19th - 29th 2015
+ Add-on to Nazca, Paracas, Ica

Join the stars of 'Ancient Aliens' (History Channel) Andrew Collins, Brien Foerster & Hugh Newman on a unique tour to examine and compare the great civilizations og Gobekli Tepe in Turkey, and the pre-dynastic temples of Egypt - in the incredible sacred landscape of ancient Peru and Bolivia. Includes full day Solstice celebration in Cuzco - The Inti Raymi.


Main Tour: Ancient Peru & Bolivia
Lima * Cuzco * Sacred Valley * Ollantaytambo * Machu Picchu * Puno * Lake Titicaca * Sillustani * Cutimbo * Tiwanaku * Puma Punku * and much more

Add on: June 29 - July 3 - Nazca, Ica & Paracas

Click here for more information and immediate registration
See below for a great video showing Andrew Collins and Hugh Newman at the ARE HQ in Virginia Beach discussing Tiwanaku and the work there during the 1920s and 1930s by archaeologist Arthur Poznansky. Join us both there with Brien Foerster in June - see above for details
SEPTEMBER 2015

EGYPT TOUR WITH ROBERT BAUVAL AND ANDREW COLLINS!!!!