Find out when Andrew is talking in your area, and follow him on Facebook for updates on events and interests

IN BRIEF ...

June 19/29, 2015. ANCIENT TECHNOLOGY - PERU & BOLIVIA TOUR 2015. Megalithomania and Hidden Inca Tours invite you on a once in a lifetime expedition to ancient and mysterious sites in Peru and Bolivia. Click here for more info and immediate registration.

June 29/July 3. Peru & Bolivia Tour. Add-on to Nazca, Paracas, Ica. Click here for more info and immediate registration.

Sept 07/12, 2015. Short break to Göbekli Tepe and the surrounding area with Andrew Collins and Hugh Newman. Experience Göbekli Tepe twice, see Harran, the Sabian city of the moon god Sin, with its fabulous Astronomical Tower; Karahan Tepe, Göbekli Tepe's sister site, and also Sanliurfa, the biblical city of Edessa, with its cave marking the site of the birth of Abraham, its tranquil Pools Of Abraham, and brand-new archaeological museum with its permanent Göbekli Tepe and Pre-Pottery Neolithic exhibition. Click here for more info and immediate registration.



OCT , 2015. Sacred Space Group, Steiner House, London NW1. In the lead up to the Origins 2015 event in London on November 7th, Andrew previews a brand his brand new lecture on the origins of humanity's belief in its origins among the stars, ideas that go back at least 17,000 years. For further details click here.

Nov 7/8, 2015.

Join Graham Hancock, Clive Prince, Lynn Picknett, Dr Danny Hilman Natawidjaja, Andrew Collins, Jim Vieira, and Hugh Newman, for one of the most extraordinary weekends of the year. Listen to lectures, news and revelations, and share views and ideas with others on the quest of discovery. With a Sunday Walkabout around the mysteries of the East End with Andrew Collins

FOR FULL DETAILS AND IMMEDIATE REGISTRATION CLICK HERE

Nov 15, 2015.

Andrew will be appearing at the 2015 Minds of Awareness conference on November 15th in sunny Southend-on-Sea, Essex, UK, so if you're into the alternative and the mysterious check this site out for the full speaker listing and registration.

http://imoaconference.co.uk/

Nov 20/22. Andrew will be appearing at this November at the Crystal Vortex 2015 event in Hot Springs, Arkansas, organised by EarthKeeper. The date for this event is November 20nd-22th. There will be a whole host of top class speakers, including fellow Brits Hugh Newman and Graham Hancock. Take a look at the event's website for further information and registration details. Click here for details.

Sept 2016. Ancient Egypt Tour with Megalithomania and Khemet Mystery School discovering the famous sites of Giza, Abusir, Saqqara, Meidum, Karnak, Luxor, Valley of the Kings, and Aswan. More information coming soon.
I N -F U L L
ANCIENT TECHNOLOGY
PERU & BOLIVIA
TOUR 2015
Megalithomania and Hidden Inca Tours invite you on a once in a lifetime expedition
June 19th - 29th 2015
+ Add-on to Nazca, Paracas, Ica

Join the stars of 'Ancient Aliens' (History Channel) Andrew Collins, Brien Foerster & Hugh Newman on a unique tour to examine and compare the great civilizations og Gobekli Tepe in Turkey, and the pre-dynastic temples of Egypt - in the incredible sacred landscape of ancient Peru and Bolivia. Includes full day Solstice celebration in Cuzco - The Inti Raymi.


Main Tour: Ancient Peru & Bolivia
Lima * Cuzco * Sacred Valley * Ollantaytambo * Machu Picchu * Puno * Lake Titicaca * Sillustani * Cutimbo * Tiwanaku * Puma Punku * and much more

Add on: June 29 - July 3 - Nazca, Ica & Paracas

Click here for more information and immediate registration
See below for a great video showing Andrew Collins and Hugh Newman at the ARE HQ in Virginia Beach discussing Tiwanaku and the work there during the 1920s and 1930s by archaeologist Arthur Poznansky. Join us both there with Brien Foerster in June - see above for details
Hidden Knowledge Tours
Presents Short Breaks to
G ö b e k l i --T e p e
and the surrounding area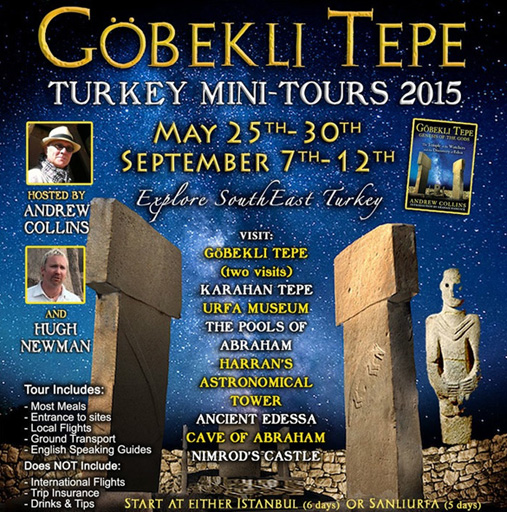 25-30 May 2015 and 7-12 September 2015
Explore Göbekli Tepe and the Mysteries of Turkey with special guests Andrew Collins and Hugh Newman
6 DAYS/5 NIGHTS: Göbekli Tepe - Harran - Karahan Tepe - Sanliurfa
Start the Tour either at Istanbul or Sanliurfa

Visit the magnificent Göbekli Tepe, the oldest stone temple complex in the world - the ancient city of Harran, with a history spanning almost 8,000 years - Sanliurfa, the birthplace of Abraham and the site of Turkey's most modern museum of the archaeology of prehistory - Göbekli Tepe sister site Karahan Tepe, which dates back almost 11,000 years
Special guests for the tour will be Andrew Collins, historical writer and author of the world acclaimed book Göbekli Tepe: Genesis of the Gods, and also Hugh Newman, explorer and author of international bestseller Earth Grids
Click for full details and immediate reservation


Watch this YouTube video with Andrew Collins at Karahan Tepe, Sanliurfa's fabulous new archaeological museum, and also at Göbekli Tepe. See the Hidden Knowledge Tours group examining stone alignments at Karahan Tepe and Andrew crawling through tunnels in a previously unrecorded cave nearby Karahan. See also exhibits and attractions inside Sanliurfa's new museum, as well as a brief clip of Harran's astronomical tower. And if you want to experience Southeast Turkey yourself, there are still places available on the Hidden Knowledge Tours' 5 night/6 day mini break to all these places starting on September 7th.

Watch this new video on Göbekli Tepe now with Graham Hancock, Andrew Collins and Hugh Newman recorded on a previous tour to the site in 2013
OCTOBER 2015

NOVEMBER 2015
Join Graham Hancock, Clive Prince, Lynn Picknett, Dr Danny Hilman Natawidjaja, Andrew Collins, Jim Vieira, and Hugh Newman, for one of the most extraordinary weekends of the year. Listen to lectures, news and revelations, and share views and ideas with others on the quest of discovery.

With a Sunday Walkabout around the mysteries of the East End with Andrew Collins

FOR FULL DETAILS AND IMMEDIATE REGISTRATION CLICK HERE

Early bird ticket £48

(first fifty tickets sold only, thereafter £52 per ticket)

Optional Sunday Walkabout of London's East End £14

Early bird combined Saturday and Sunday ticket £62

(first fifty tickets sold only, thereafter £66 per ticket)

Andrew will be appearing at the 2015 Minds of Awareness conference on November 15th in sunny Southend-on-Sea, Essex, UK, so if you're into the alternative and the mysterious check this site out for the full speaker listing and registration.

http://imoaconference.co.uk/
Andrew will be appearing at this November at the Crystal Vortex 2015 event in Hot Springs, Arkansas, organised by EarthKeeper. The date for this event is November 20nd-22th. There will be a whole host of top class speakers, including fellow Brits Hugh Newman and Graham Hancock. Take a look at the event's website for further information and registration details.

http://www.earth-keeper.com/product/arkansas-crystal-vortex-2015/
| | |
| --- | --- |
| | |