* Andrew Collins Newsletter - October 12, 2013 *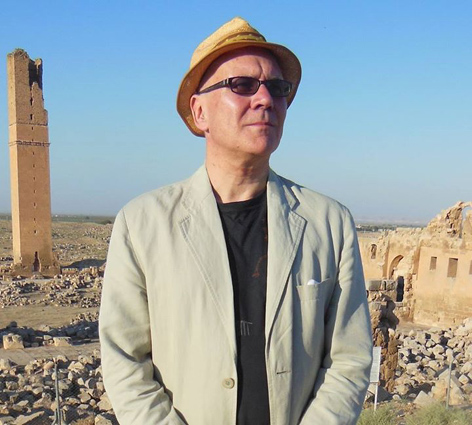 Andrew Collins at Harran in 2013 with the
Astronomical Tower in the background.
Hi,
Hope this e-newsletter finds you well.
Just getting myself back in the flow after the highly successful Origins of Civilization tour of Gobekli Tepe and Turkey organized by Megalithomania Tours, and a personal trip to Italy immediately after that. I was back just a few days before I had to present a brand new audio-visual presentation to London's Sacred Space group at Steiner House, the venue for the Origins 2013 Conference in November. A man named Morris filmed the lot from the back and put it online. So here it is:
https://www.youtube.com/watch?feature=player_embedded&v=H8qeFj6oRII#t=11

I have entitled the presentation: "Gobekli Tepe: Gateway to the Stars", with the following brief:
"Gobekli Tepe is the oldest complex of stone circles and sanctuaries anywhere in the world. At 11,500 years old it was built in SE Turkey at the end of the last Ice Age apparently by simple hunter-gatherers. Yet some of its megalithic structures contain carved monoliths as much as 15 tonnes a piece, with a height of 5.5 metres. Who really built these monuments, and why?
"I show that Gobekli Tepe was constructed to target the stars, and demonstrate conclusively that it was directed towards the Cygnus constellation and the Milky Way's Dark Rift, which since 15,000 BC has been seen as the entrance to the sky-world. Yet as an astral gateway it was not just used by the souls of the dead to reach the afterlife, or unborn souls to reach incarnation, but also by the souls of shamans journeying between this world and the next."

Soul Holes
OK, the footage is not the best in the world, but it will give you an idea of the very latest discoveries including (from the fortieth minute of the video onwards) the incredible realization that the holed stones in the main enclosures at Gobekli Tepe are almost certainly soul holes (German "seelenloch"). They are found not only in megalithic structures across Europe, Russia, the Caucasus, Asia Minor, and also in Southern India, but also in the sides of funerary urns, and even in houses and churches in Germany, Switzerland and Austria (and arguably elsewhere). In this last case, round soul holes were deliberately placed in the side walls of houses, which were opened only when a death occurred in the building. It was believed that the soul or spirit could successfully depart the premises only if a special door was created for it.
It is incredible that a tradition existing at Gobekli Tepe some 11,500 years ago might have survived through till comparatively modern times.
I have attached a montage showing four examples of sole holes: top left - soul hole from Enclosure D at Gobekli Tepe; top right - sole hole in a dolmen from Russia; bottom left - a 1st/2nd century urn from Bonn, Germany, and, bottom right, a cist burial tomb from Southern India. All are to let the soul pass out from its place of containment in the physical world.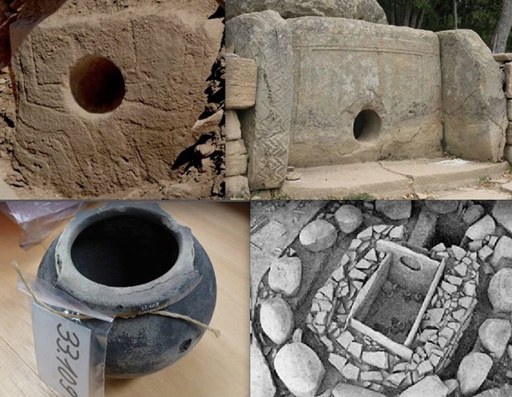 Morris also interviewed me afterwards as I sat outside a pub in Baker Street, a stone's throw from Sherlock Holmes gaff at 221b. Here is the link to that.
https://www.youtube.com/watch?feature=player_embedded&v=XjtWB6X0tfc#t=45
Harran – City of the Moon God
What is strange is that people are pointing out that at 2:05 into the interview a lunar crescent suddenly appears on my forehead. It is simply the shadow of something being illuminated by a passing car's headlights, but the fact that I am talking about Harran - the City of the Moon god Sin - is strangely synchronous. This is especially so as I have just returned from Harran, which I see as my spiritual home.
I was asked by the publishers of the new book to do a Prologue linking its Gobekli Tepe material with the first person narrative in the second half, where I go in quest of the Garden of Eden and the Watchers of the book of Enoch. I decided to deliberately set this Prologue in Harran, as it brings together all the different threads I am talking about - Gobekli, the book of Genesis, Watchers, Garden of Eden, etc.

Video of the Megalithomania Gobekli Tour on YouTube Now
Something else you are going to want to see is a brief video put together by Hugh Newman and now up on YouTube of our visit to Gobekli Tepe on September 16th. It has Graham Hancock there chatting about the site as a game-changer, in that it urges us to question the age of almost all megalithic monuments worldwide. You also see me leading the tour group, and Hugh himself recording his feelings as he first approaches the site. Great fun.
Origins 2013 Conference
The Origins 2013 Conference on November 16th featuring Graham Hancock, Robert Bauval, Graham Phillips, Hugh Newman, Caroline Wise and myself is now just five weeks away. Hugh and I were at Steiner House in London on Thursday going over everything and I can confirm that the venue has the most comfortable chairs I have ever experienced for a conference!! Remember, this is a proper theatre, so your experience there should be a good one.
Hugh, me and Graham Hancock will all feature Gobekli Tepe in our presentations, and how this incredible site relates to greater things, so if you even have a passing interest in lost civilizations, ancient mysteries and Gobekli itself, then I urge you to be there.
Things are changing in the ancient mysteries movement. Suddenly, it is being taken seriously again, and I sense a brand new awakening going on right now. You have the conference in November. Then next year will see the release of my long awaited book "Gobekli Tepe: Genesis of the Gods", and then in 2015 you will have Graham's new book "Magicians of the Gods", which will challenge everything we believe we know about the emergence of human civilization after the end of the last Ice Age.
Be onboard for all this. It is going to be a great ride!
For more info and tickets on Origins 2013, go to here:
http://www.andrewcollins.com/page/conference/conferencenews.htm
New Tours to Gobekli Tepe
We are currently putting together TWO new tours to Gobekli Tepe and Turkey for next year (one in April/May and the other in September). Hugh and I hope you will want to come with us on one of these experiences of a life time. Full details coming soon, but by all means write to us now to lodge your interest.

Gobekli Tepe and the Watchers of Eden Talk
Lastly, the second installment in my Gobekli Tepe lectures will be this Wednesday, October 16th, at the Moot with No Name group in London. Here I reveal the relationship between Gobekli Tepe and the Watchers of Eden. It is a completely different lecture to the one given this last week at the Sacred Space group, and now online.
Admission is £3 aged, £2 unwaged. The venue is The Temple Bar (formally Milfords, as it still appears on some websites). Address is 1 Milford Lane, Covent Garden, London WC2R 3LL. For more info:
http://www.allinlondon.co.uk/tube-temple-clubs-bars.php
(Please note that this is pub no 6 on this map, not the Walkabout at Temple Bar as some web searches state.) Nearest Tube is Temple, numerous buses run along the Strand/Fleet Street,
Be in touch again soon.
Happy Hallowe'en! Or Samhain if you are a pagan!
Best regards,
Andrew