E A R T H Q U E S T N N E W S
THE ANDREW COLLINS NEWSLETTER - DECEMBER 2015
In this issue: Origins 2015 & 2016. Presentations. Giza's cave world. New book. Tours to Turkey, India, Egypt and Göbekli Tepe. New articles on Kepler's alien megastructures, the Göbekli Tepe bone plaque and a critique of Graham Hancock's new book Magicians of the Gods. New T-pillar with soul hole found at Göbekli Tepe. Andrew discovering Göbekli Tepe's soul hole stones. Anne Rice engrossed in reading Gateway to Atlantis

Hi,
Hope this newsletter finds you well. Firstly, I want to thank everyone for attending the Origins 2015 event in London in November. It was a complete sell out, with over 300 people on the day. Somehow Hugh Newman and I got it just right with the venue, the speakers and the schedule for both days.
Hugh and I are already looking towards Origins 2016, which will be around the same time next year. More on that soon.
Since then I have presented in Southend in southeast England at the 3rd Minds of Awareness Conference and also in Hot Springs, Arkansas, at the Crystal Vortex Conference. Both were great successes and allowed me to sharpen my lecture on the discovery of Giza's lost cave world, and how what Robert Bauval now calls the Cygnus Correlation Theory (CCT, as opposed to the OCT) allowed me to find the entrance to the cave system.
On my return I found myself rewriting the synopsis for my new book with the working title of Hybrid Origins. It was to be about how the hybridization between Neanderthals, Denisovans and our own ancestors, Homo sapiens accelerated the rise of civilization. However, due to various discoveries at Göbekli Tepe, Giza and elsewhere it has become necessary to alter the book considerably.
I now have just a few months to write the entire book, which means you won't hear from me much for a while. However, straight afterwards I embark on various tours, which I need to tell you about.
The first is the Origins of Civilization tour to Turkey in May. Hugh Newman and I will visit Ankara, Cappadocia, Hattusha, Alaca Höyük, Göbekli Tepe, Catal Höyük, Nemrut Dag, Sanliurfa, Harran and much more. We will also see the Whirling Dervishes performance at Konya whilst in the city. You can either take the basic package, which ends at Konya, or you can join us for the whole tour which includes Göbekli Tepe and Nemrut Dag. Alternatively come with us just to southeast Turkey. The choice is yours.
Brien Foerster and his wife Irene will be our special guests, although obviously with anything like this we need the numbers to make it happen. The deadline for bookings is April 2nd.
For more information on the trip, go to the link below:
http://www.andrewcollins.com/page/events/Turkey_0516.htm
In July Hugh and I are hosting a tour to Northern India's Ladakh region to go in search of the legendary lost land of Shambhala. This region is known as Little Tibet and we shall be visiting a number of Buddhist monasteries looking for answers (one of which is run by the Dalai Lama's younger brother!). We will also go to a Tibetan retreat for two days to meditate, relax and connect with the Shambhala tradition.
Dates are July 11/25. The trip is 15 days/14 nights, and the whole thing is organised by Travel the Unknown.
For more information:
http://www.andrewcollins.com/page/events/Shambhala_0716.htm
Then in September 2016 Hugh and I are collaborating with the Khemit School of Egyptology on an ancient Egypt and Baalbek tour. We shall be visiting all the usual sites including Giza, Sakkara, Dahshur, Luxor, Valley of the Kings, Aswan, Abydos and Denderah. We shall also be going to Edfu to seeing the famous building texts, which I have written about in various books over the years. This tour will be from September 10-22, with a Baalbek extension from September 22-26 (I can't make the Baalbek leg I'm afraid, but will be there with everyone else on the Egypt tour).
For full information go to:
http://khemitology.com/wp-content/uploads/2013/05/September-2016-Megalithomania-Tour-Itinerary-.pdf
Finally, Hugh and I are going back to the Göbekli Tepe area for a mini break in October 2016. Sites on the list include Sanliurfa, Göbekli Tepe, Karahan Tepe, Harran and Nemrut Dag. The trip is 7 days/6 nights.
For full information and registration go to:
http://www.andrewcollins.com/page/events/Gobekli_1016.htm

ALIEN MEGASTRUCTURES - NEW ARTICLE
Now onto articles. I have just posted a new article on the suggested alien megastructures that may surround a star in the Cygnus constellation known as KIC 8462852. This is a full-length article following on from my initial report on the subject posted in October.
Read this at the following link:
http://www.andrewcollins.com/page/articles/alien.htm
Read also my article on the tiny bone plaque found at Gobekli Tepe, which displays carvings of twin T-shaped pillars, a soul hole, and three more peck marks that exactly match the positions of the Cygnus wing stars as they appeared in the sky for 9000 BC.
http://www.andrewcollins.com/page/articles/plaque.htm

CRITIQUE OF GRAHAM HANCOCK'S NEW BOOK MAGICIANS OF THE GODS
And just in case you haven't seen it, I take to task certain statements Graham Hancock says about Göbekli Tepe in his new book Magicians of the Gods in a detailed critique. Please read this if the subject of Göbekli Tepe interests you.
This can be found at the following link:
http://www.andrewcollins.com/page/articles/magicians.htm
NEW STONE FOUND AT GÖBEKLI TEPE
Dr Lee Clare, coordinator of exacations at Göbekli Tepe, discussed at a meeting in Brussels on November 4 the discovery of a unique limestone T-pillar in the newly uncovered Enclosure H located in the NW area of the site. It bears low reliefs of animals, but most important is the presence just below its T-head of a centrally placed, circular aperture just like the holes within the porthole stones in Enclosures C & D. More significantly the T-pillar, now numbered Pillar 66, is located flat against the NNW section of the structure's perimeter wall, again just like the porthole stones in Enclosures C & D. Although areas of the enclosure have still to be uncovered, and its plan properly defined, there seems every indication that Pillar 66 stood precisely in line with the NNW axis of the twin central monoliths. This means that the stone could well have been a sighting hole allowing visual access to the NNW horizon, against just like the porthole stones in Enclosures C & D. If correct, this all argues strongly against the opinion held by some of my colleagues that Göbekli's main enclosures faced south towards the stars of the southern sky. I want to thank Joe Plegge for bringing this announcement to my attention. Clearly, I will now be working with engineer Rodney Hale to better determine exactly what star or stars might have been visible through the aperture of Pillar 66 during the epoch of its erection, arguably ca. 9500-9000 BC. Here is the link to the webpage with news of Dr Lee Clare's lecture in Brussels on November 5, which formed part of an exhibition put on by the Brussels Yunus Emre Enstitüsü titled "Anatolia. Home of Eternity." It examined Göbekli Tepe role in the birth of civilization.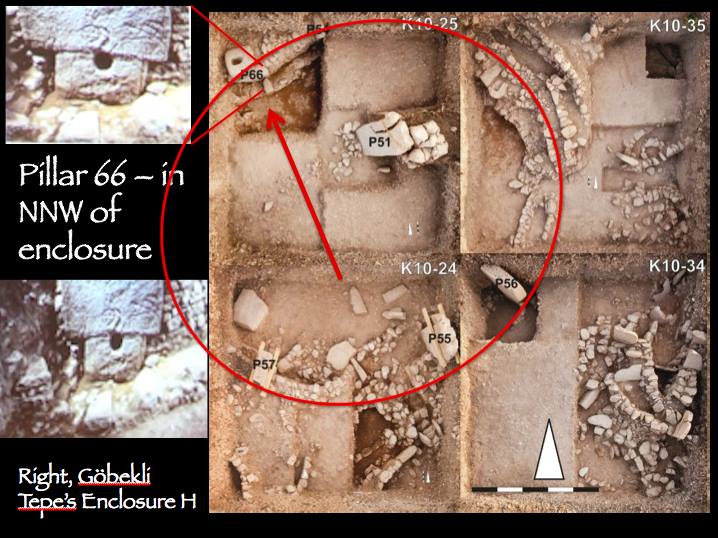 Gobekli Tepe's Enclosure H showing the position of Pillar 66, found recently
with a centrally placed soul hole (photos credit: German Archaeological Institute/DAI).
zz
Watch this great video of our discovery in 2013 of a soul hole stone in Göbekli Tepe's Enclosure C, similar to the one in neighbouring Enclosure D. Taken from video footage obtained by Bill Busha when at the site on our Origins of Civilization tour. See also the unveiling of a further soul hole stone (Pillar 66) in the newly revealed Enclosure H. As I wrote today to Dr Lee Clare, the new coordinator of excavations at Göbekli Tepe, these soul hole stones could be the key to uncovering the function of the site's earliest enclosures.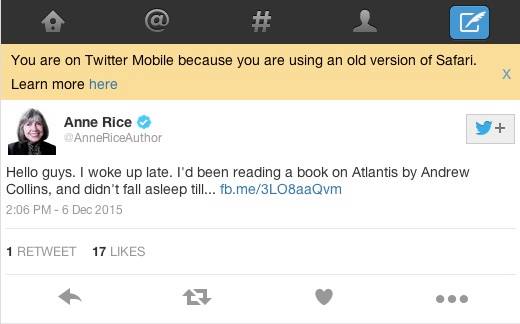 Thought this was pretty cool. Anne Rice the author tweeted saying she's losing sleep reading my book Gateway to Atlantis. Research for a new vampire novel? Probably not. Thanks to Angelique Scheepers for the heads up on this one.
That's about it. Expect much to celebrate and debate in the ancient mysteries subject in 2016, and be assured I shall be on top of it all. And lastly, remember this. Don't believe everything you read. If in doubt, check with me.
Best wishes over this festive season, and hopefully see some of you in 2016. I look forward to that.
Andrew Collins