E A R T H Q U E StTT N E W S

ANDREW COLLINS NEWSLETTER - JUNE 2017

In this issue: KIC 8462852 BACK IN THE NEWS - DNA OF THE ANCIENT EGYPTIANS - DATES FOR LONG DISTANCE TRADE IN OBSIDIAN IN ANATOLIA AND THE LEVANT PUSHED BACK BY NEW FINDINGS - NEW DISCOVERIES AT TIWANAKU, BOLIVIA - NATIVE AMERICAN MOUNDS IN ALABAMA: AN ILLUSTRATED GUIDE TO PUBLIC SITES - PERUVIAN CULTURE GOING BACK 15,000 YEARS SMASHES THE CLOVIS FIRST THEORY ONCE AGAIN - HUMAN ANCESTORS AROUND IN EUROPE AS EARLY AS 7.2 MILLION YEARS AGO - SEVEN REASONS TO GO TO ORIGINS 2017 - EGYPT TOUR IN 2018


Dark Star Transit (credit Andrew Collins/Rodney Hale, 2017)

KIC 8462852, a.k.a. TABBY'S STAR, BACK IN THE NEWS


The big news is that chartered engineer Rodney Hale and I have now uploaded our paper on the physical modelling of the objects responsible for causing the light dimming events in connection with KIC 8462852, a.k.a. Tabby's Star. Tap below to access the study, which has been uploaded to the scientific papers site viXra and also Academia.edu. What we show is that the occulting objects are almost certainly in orbit around the star, and that their shape is quite possibly that of an ellipse, and if not an ellipse then perhaps disks or irregular shards rotating on their axis. There is not enough data to say exactly what these objects might be, only that they are unlikely to be giant-sized ringed planets as has been claimed recently. Indeed, the idea that they are alien megastructures is still firmly on the table.

Click to read KIC 8462852 — Physical Modelling of its Occulting Objects and the Mystery of the Cyclic Fluctuations by Andrew Collins and Rodney Hale

Click here to download the paper also from Academia.edu

We show also that an 0.88-day periodicity recorded in the Kepler data for the star synchronizes perfectly with a larger 48.4-day cycle, and that the later coincides with our solar calendar every 242 days. Most peculiar is that ALL the numeral values involved add up to multiples of 11, a prime number, and are also all palindromes. The paper and its findings feature in John Michael Godier's most recent video update on the star. He says the following on these findings:

"I must admit I hope it is just coincidence because this would imply that an alien civilization over 1,300 light years away knows that Earth is habitable, has the right atmosphere in the mix for intelligent life to develop, have calculated our orbit, and are sending a visual message to us just in case we're here. I guess that's not all that different from the idea of an alien civilization beaming a radio signal towards us, one of the things that SETI searches for. And I really think it's just the star rotating and its all coincidence, but its interesting nonetheless, and a bit creepy. What a weird star."
Here the paper by Andrew Collins and Rodney Hale talked about on the latest video update on KIC 8462852 by science fiction writer John Michael Godier uploaded on June 6, 2017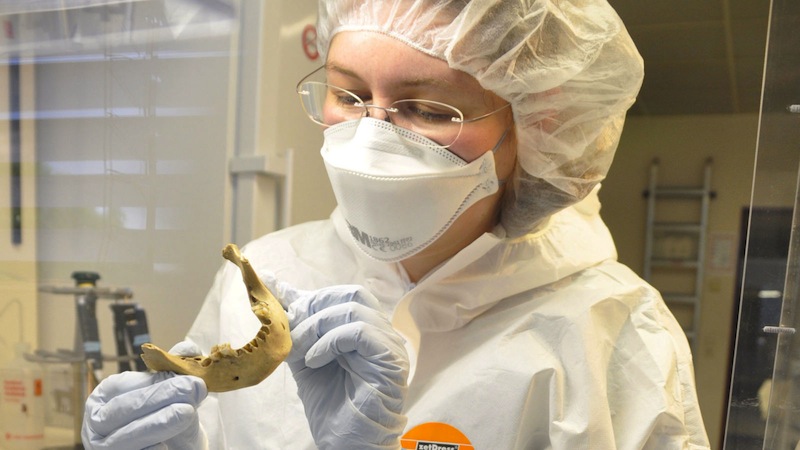 DNA OF THE ANCIENT EGYPTIANS

DNA testing of 90 ancient Egyptians living south of Cairo between 1400 BC and 400 AD shows that they have European, Anatolian (Turkish) and Eastern Mediterranean ancestry, and are not connected with sub-Saharan African tribes. What is more, their DNA changed little across time, suggesting it had existed on the spot for millennia beforehand. Moreover, the DNA testing found that the ancient Egyptians are "closely related to stone age populations from Europe and the Turkish mainland on the Asian side." This is incredibly important and will bear out what I say in new book "The Cygnus Key," which is that the direct descendants of Gobekli Tepe in southeast Turkey moved south through the Levant and entered northern Egypt around Cairo and Giza around 8500-8000 BC. They carried with them cosmological ideas that had flowered at Gobekli Tepe, but which had come originally from Southern Siberia as much as 20,000-40,000 years ago. I will show the immense evidence for this conclusion, which is the key to understanding the emergence of the cosmology represented in the Egyptian Pyramid Texts.

http://news.sky.com/story/egyptian-mummies-have-european-and-turkish-dna-scientists-10898867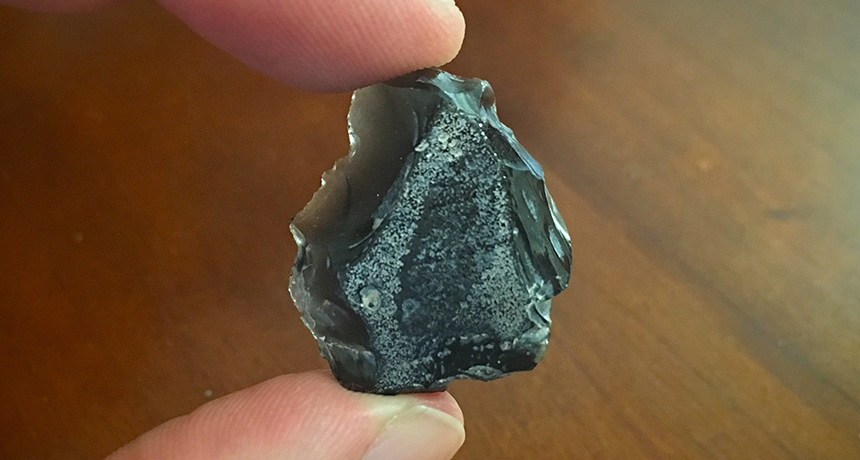 DATES FOR LONG DISTANCE TRADE IN OBSIDIAN IN ANATOLIA AND THE LEVANT PUSHED BACK BY NEW FINDINGS

Obsidian transported up to 700 km as early as 41,000-32,000 years ago has been found at a rock shelter at Yabroud in Syria. The source was one of the volcanoes in southern central Turkey, from which more advanced tools were made in Neolithic times. Previously, it was thought that the earliest long distance transportation of obsidian in the Levant occurred during the Natufian period, ca. 14,500-11,000 BP. Other examples of a long-distance trade in obsidian come from the Shanidar Cave in northern Iraq, dating to 48,000 years ago. Even earlier long-distance obsidian transportation is reported from Armenia and Georgia going back 500,000 years. What all this unquestionably shows is that obsidian is key to understanding very earlier lines of communication and migration routes just as I propose in my book "Gobekli Tepe: Genesis of the Gods." Obsidian tools found at Gobekli Tepe derive from volcanoes in southern central Turkey, the Armenian Highlands and around Lake Van.

https://www.sciencenews.org/article/tool-sharpens-focus-stone-age-networking-middle-east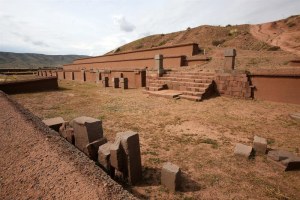 NEW DISCOVERIES AT TIWANAKU, BOLIVIA

A new archaeological survey at Tiwanaku (Tahuanaco) in Bolivia has uncovered a vast underground network of tunnels, a new temple complex, a possible buried pyramid, and a series of round houses. These discoveries show the site is much bigger and arguably older than was previously imagined. Moreover, they may completely change our perception of the site, which was extensively excavated by Austrian archaeologist Arthur Poznansky. He believed Tiwanaku dated back to 15,000 BC.

http://www.laht.com/article.asp?ArticleId=2436357&CategoryId=14919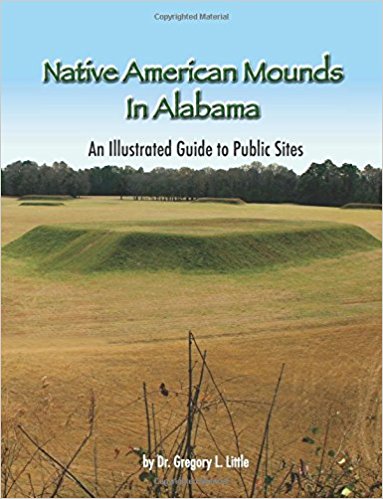 NATIVE AMERICAN MOUNDS IN ALABAMA: AN ILLUSTRATED GUIDE TO PUBLIC SITES

My good friend Dr Greg Little has a new book out entitled Native American Mounds in Alabama: An Illustrated Guide to Public Sites. It is a complete account of mound complexes across Alabama, and is the first in a new series of state-to-state guide books on this subject. Get yours now from Amazon, Barnes and Noble, and other online bookstores. Plus it will be available in all museum shops across Alabama.

https://www.amazon.co.uk/dp/0965539288/ref=rdr_ext_tmb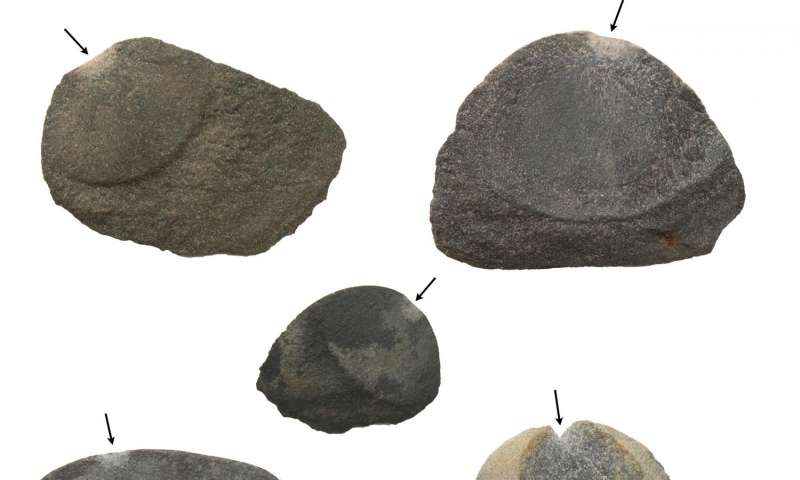 PERUVIAN CULTURE GOING BACK 15,000 YEARS SMASHES THE CLOVIS FIRST THEORY ONCE AGAIN

More damage to the "Clovis first" theory. Groundbreaking discovery of early human life in ancient Peru dating back 15,000 years. It comes in the form of a settlement site at Huaca Prieta in Peru's coastal region found to contain strange weaved baskets and primitive stone tools made from flakes (see picture). One cannot but thinks of claims that Tiahuanaco and Puma Punku might date back to this same early age. Indeed, I found so-called Levallois tools at these sites during my visit there in 2015, which have to be several thousand years old at the very minimum.

https://m.phys.org/news/2017-05-groundbreaking-discovery-early-human-life.html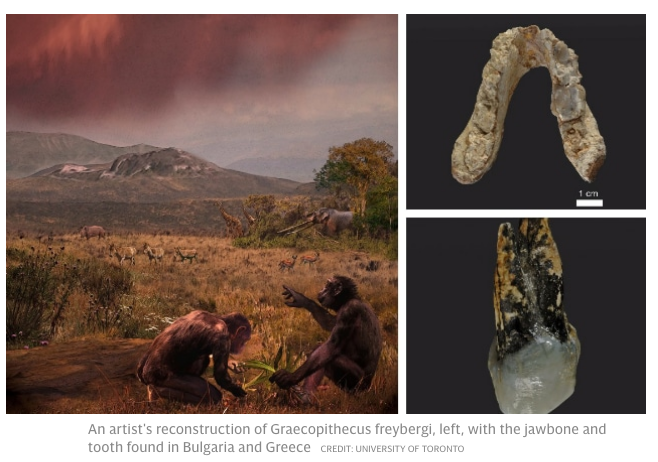 HUMAN ANCESTORS AROUND IN EUROPE AS EARLY AS 7.2 MILLION YEARS AGO

"The history of human evolution has been rewritten after scientists discovered that Europe was the birthplace of mankind, not Africa. Two fossils of an ape-like creature which had human-like teeth have been found in Bulgaria and Greece, dating to 7.2 million years ago."
What is so ironic about this story is that these ideas confirm the reality of "eoliths," stone tools from the dawn of humanity, found across Western Europe and dating to this same epoch, known as the Miocene. These are mentioned in various books on physical anthropology and the origins of humanity that appeared during the late nineteenth century, but soon after they fell out of favour and were thereafter classified as natural stones, not the work of early human ancestors. Seems like we might have to rethink eoilths and early hominin origins completely.
My own theory is that this early strain of humanity in Europe achieved a decent state of evolution (perhaps similar to the Neanderthals or Denisovans), and was wiped out by a cosmic impact event at the end of the Miocene age, sometime around 5 million years ago. Microtektites have been found at Walton-on-the-Naze in Essex and Walton Point on the Isle of Sheppey in Kent. Although found within London Clay, which is older than the Miocene, they could have derived from a much later event. Moreover, I have found evidence of this impact event in Danbury, Essex, right alongside two very convincing eoliths. This evidence comes in the form of tektites, glassy objects created as a result of an impact event. It is a matter I shall be talking to Michael Cremo about these discoveries when he comes to the UK in November for Origins 2017.

http://www.telegraph.co.uk/science/2017/05/22/europe-birthplace-mankind-not-africa-scientists-find/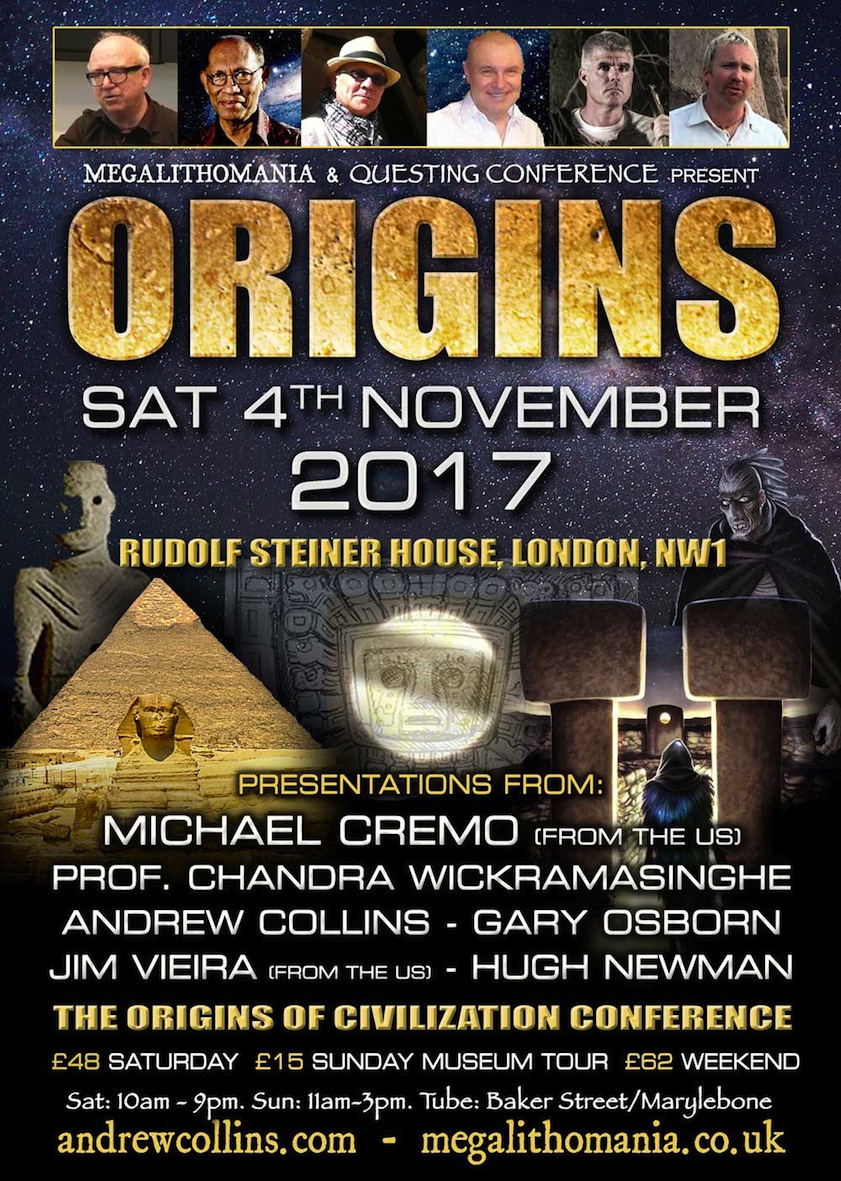 ORIGINS 2017 - THE ORIGINS OF CIVILIZATION CONFERENCE, STEINER HOUSE, LONDON, NOVEMBER 4-5TH, 2017

SEVEN REASONS TO GO TO ORIGINS 2017

1. Find out what exactly our human ancestors were doing in Europe 7.2 millions ago with Michael Cremo.
2. Learn the truth about Gobekli Tepe's Pillar 43 (the Vulture Stone) and the archaic cosmology of the Denisovans with me, Andrew Collins.
3. Learn why exactly the Great Pyramid encodes specific information on humanity cosmic origins with Chandra Wickramasinghe.
4. Find out why the idea of human giants in ancient times is becoming a reality, even in prehistoric Britain, with Hugh Newman.
5. Learn how Edgar Cayce's psychic predictions regarding the origins of civilization are being confirmed with the discovery of hundreds of prehistoric mound complexes in Peru and Brazil with Jim Vieira.
6. Learn why Britain's Rendlesham Forest UFO incident in 1980 is so important to understanding the world's global network of portal sites with Gary Osborn
7. Find out how if KIC 8462852 really is the home of an advanced alien intelligence how we might make contact using the process of quantum entanglement with me, Andrew Collins, in the pre-talk in advance of the guided meditation, which ends the Saturday conference.
Click for more information and immediate registration


EGYPT TOUR IN 2018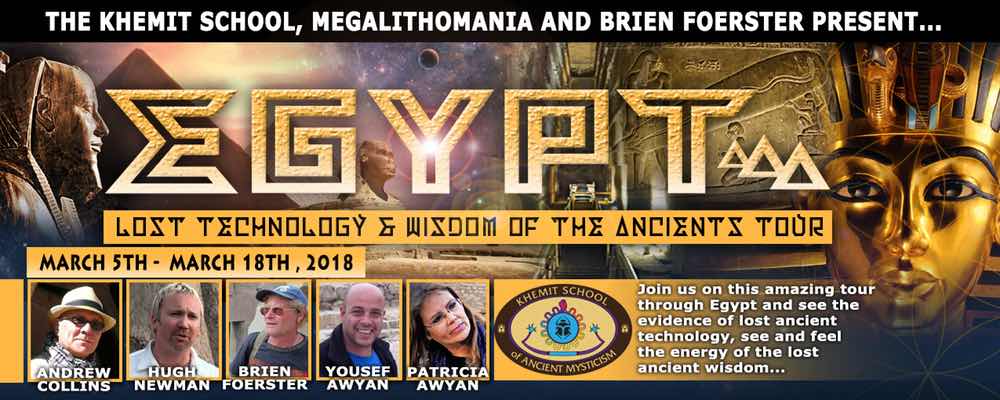 Visit Egypt in March 2018 with myself, Brien Foerster, Hugh Newman, Patricia Awyan, Yousef Awyan, and the Khemit School.

https://hiddenincatours.com/shop/tours/major-tours/march-2018-egypt-tour/