Giza: Deep Shaft Revealed
Hard News on What is going on at Giza
PLUS NEWS ON THE EXPLORATION OF THE QUEEN'S CHAMBER'S
SOUTHERN SHAFT INSIDE THE GREAT PYRAMID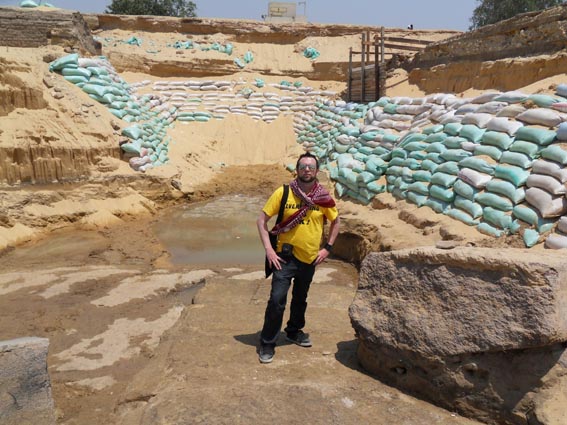 Correspondent Anthony Ferrol in front of the uncovered shaft (pic credit: Anthony Ferrol).
A Report by Andrew Collins
Last month we brought you news of the archaeological excavations taking place in the vicinity of the Sphinx, which instead of being part of some dark conspiracy are in fact bonafide and were announced in advance by Dr Zahi Hawass, Secretary General of Egypt's Supreme Council of Antiquities. We reported on the fact that a deep shaft, up to 100 feet deep, had been uncovered immediately east of the southern entrance to the Valley Temple of Khafre, close to the Great Sphinx. From its basic description, the shaft is thought to have been constructed in the Twenty-Sixth dynasty, also known as the Saite Period, dating back to around 2,500 years ago.
We can now bring you further information on the shaft, along with photos and video footage taken by correspondent Anthony Ferrol during a recent visit to Egypt. The site, he reports, looks more like a crater than an excavation, being shored up by wooden supports and walls of blue plastic sandbags. During his visit he witnessed workmen removing buckets full of sand from the crater area, although the shaft itself is now completely filled with ground water, which has risen to its current level since the shaft's initial clearance last month. Anthony's account continues:
Anthony reports that one workman he spoke to suggested that "another Tutankhamun" had been uncovered here, although this we have to see more in terms of wishful thinking or bravado than actual discoveries. I am sure that the memory of the discovery of Tutankhamun's tomb is still firmly entrenched in peoples' minds in Egypt, and it must always be hoped that if an untouched royal tomb is are ever found again, then, inshallah, it will be an Egyptian team that finds it this time.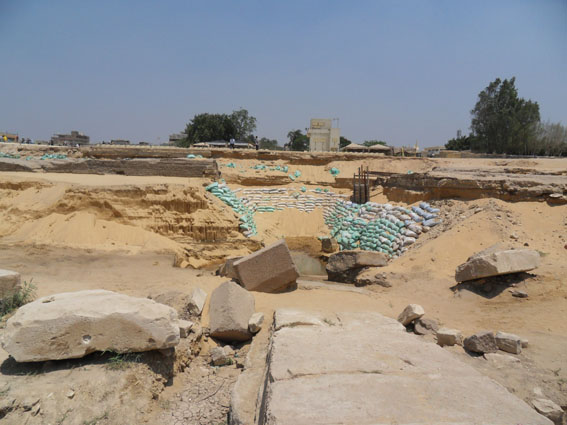 View looking east from the the southern exit of the Valley Temple of Khafre. You can see the sandbags shoring up the sand surrounding the uncovered shaft (pic credit: Anthony Ferrol).
Only time will tell exactly what has been uncovered within the shaft. As much as some people would like to see this activity as evidence of some kind of evil conspiracy in which Atlantean treasures are being secretly removed from a recently uncovered "record chamber" or "treasure chamber", I really cannot see anything here to back up such wild claims. Furthermore, suggestions that the deep shaft might link with secret cave tunnels is also something that Anthony found no inkling of during his brief conversations with local workmen at the site. So such a possibility, although attractive, is completely unfounded at this present time. We will, of course, bring you more on this story as and when it becomes available to us.

Anthony Ferrol's video clip of excavations taking place
at Giza east of the Valley Temple of Khafre.

Queen's Chamber Airshaft Under Investigation
We can also report that Anthony was able to confirm that the southern air-shaft of the Great Pyramid's Queen's Chamber is currently being explored by a robotics team under the leadership of Dr Hawass. A chance meeting between one of Anthony's companions and a man in a lift in a hotel, revealed that the latter was an archaeologist. He said that he was part of a team sending a new robot into the air-shaft in the hope of obtaining some definitive answers about the mysterious "secret door" made of stone, with two corroded copper handles, first encountered in 1993 by the robot Upuaut 2 under the control of German robotics expert Dr Rudolf Gantenbrink.
In 2003 Dr Hawass co-ordinated a follow up exploration of the air-shaft, which resulted in a small hole being drilled through the "secret door", and a fibre-optic camera being inserted through it in order to learn what was beyond here. This turned out to be another similar stone "door", which is about as far as the investigation got back then. It would now seem that the intention of the current project is to get beyond the second door, and see whether beyond it is a continuation of the air-shaft, or, as many have speculated, a secret room that might contain something of immense value to Egyptology and the world. Some have speculated that any such room might contain the tomb of Khufu or perhaps a statue of the king in his role as Osiris, god of the underworld, his eyes fixed towards the stars.
Whatever the secret of the Queen's Chamber's southern air-shaft, Dr Hawass in an interview published in Al-Ahram newspaper, the Arabic daily edition for May 9, 2010, stated that he: "will be unveiling the mystery of the pyramid of King Khufu in mid-May". So keep your eyes posted on NatGeo for news of an upcoming world exclusive on the discoveries, for that is surely how it will be revealed to the world.
Since then Dr Hawass has released full details of the expedition, which can be found on his website. It confirms our surmises, and provides full background details of the venture.

Thanks to Anthony Ferrol and Nigel Skinner Simpson for their help in putting together this article.