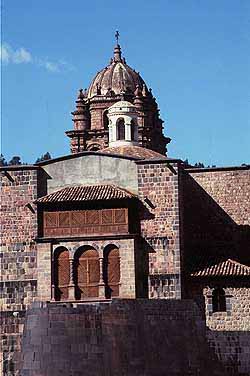 St Domingo church, Cuzco, built on the site of the Coricancha. Photo credit: Martin Gray.
Cuzco's own terrestrial personification is that of a puma, the symbol of kay pacha, 'this world'. Its head and jagged teeth are to be seen at Sacsahuaman - the hilltop fortress famous for its foundation walls composed of breathtaking cyclopean masonry. The town's main plaza of Huacaypata corresponds with the feline's belly and legs, while the Coricancha, site of the former temple of the sun on which was built the church of St Domingo, falls in the vicinity of its genitals. The spine and tail of the puma are represented by the Tullumayu and Huatanay rivers, which flow into the Vilcanota river.
Italian astrophysicist Giulio Magli, Professor of Mathematical Physics at Milan's Politechic, has identified Cuzco's celestial puma as a joint star-to-star and dark cloud constellation occupying the position of Cygnus at the very top of the Great Rift, demonstrating that this was the Incan point of access into the celestial abode, called hanaq pacha, the 'world above'. It was here that the human soul started its life and would ultimately return in death. This was accessed, or linked, via its terrestrial counterpart focused upon Cuzco, the Incan centre of the world, making this place an expression of Cygnus laid out on the landscape.