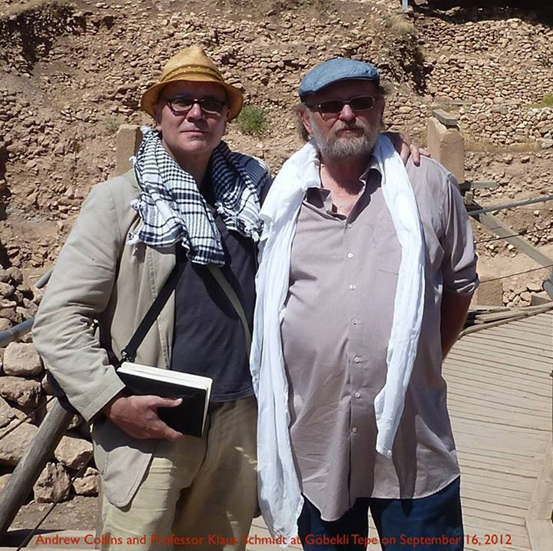 In this newsletter: The death of Professor Klaus Schmidt (1953-2014) - The Path of Souls by Greg Little and Andrew Collins: copies now on sale - Lightning Strikes in the UK: the case for ball lightning - IMAO Conference Details - Andrew is late booking for the Glastonbury Symposium this weekend - Book now for the Garden of Eden Tour of Eastern Anatolia in September, and the Origins 2014 Conference in London on November 15, 2014. Plus a full listing of where Andrew will be speaking in the coming months.


THE UNEXPECTED DEATH OF PROFESSOR KLAUS SCHMIDT

The biggest news this week is the death of Professor Klaus Schmidt, the German archaeologist who masterminded the resurrection of Göbekli Tepe. He died on Sunday, July 20 of a heart attack. This tragedy has come as a complete shock to the ancient mysteries and archaeological communities, and our condolences go out to his family and friends. Without him, and his rediscovery of the site in 1994, the world might never have been able to gaze on the wonders that are Göbekli Tepe, as at the time the site was scheduled for demolition in order to create ballast for the creation of the new Sanliurfa to Mardin highway. Indeed, he himself said back then that if he did not turn around and walk away now, then he would be there for the rest of his life. Tragically, this turned out to be the case. He continued uncovering its mysteries right till the end. In honour of his memory, I am making available an audio interview I did with Klaus Schmidt on September 16, 2012. Download it as an MP3 file by clicking the link below:

https://www.amazon.co.uk/clouddrive/share?s=LhJ4qR_DRlMun11Yxzh6x0

The interview took place at Göbekli Tepe as we stood on the wooden walkway between Enclosures C and D, when also the photo included here was taken.

Klaus answers question on the age of different enclosures, gives his predictions for future discoveries; offers his views on the site having astronomical alignments, identifies some of the animals carved on the stones; suggests why the fox was important at Göbekli Tepe; explains the site's relationship to the Upper Paleolithic? world of Western Europe; provides his thoughts on first discovering Göbekli Tepe in 1994; gives his opinions on Göbekli having some connection with the Younger Dryas cosmic event of 10,900 BC; offers his thoughts on the ultimate reason for the construction of Göbekli Tepe; says what he really said to British journalist Sean Thomas in 2007 regarding Göbekli Tepe's connection with the Garden of Eden, and explains how and why the various enclosures were covered prior to the site's abandonment in around 8000 BC.

Please excuse me rabbiting on, and not allowing him to get a word in edgeways sometimes, but the whole interview was sort of unplanned, and thus spontaneous in its delivery. Clearly, something like this can never happen again, which makes this recording so unique.
I had never met Klaus Schmidt before that day, as he had had not been at the site when I first visited Göbekli Tepe in 2004. At first he refused to grant me an audience, citing the fact that he was too busy. However, he said that if he got time, he would find me, and this is what he did. I hung around the place so long that I think he felt he had to answer my questions in some manner. He actually opened up on a number of points, and later I sat with him and his staff beneath a tree next to the container used as the archaeologists' kitchen and storehouse. When they all left for Sanliurfa in the late afternoon, Klaus asked if I wanted to accompany them. As I had already ordered a taxi, I politely declined.

I saw him again in September 2013 when I led a party around the site as part of the Megalithomania Origins of Civilization tour. I went to see him in his new portacabin next to the excavations on the northwest side of the site. He sat at his desk and made it clear he was not happy to answer questions as he was so busy. I recall asking him just a couple of things – one being his opinion of potential astronomical alignments at the site. As he'd done the previous year, he did not dismiss the idea, but admitted it was not his favourite theory.


Prof Klaus Schmidt at Göbekli Tepe
in September 2012

I asked if I could see the new excavations and he said no, even though the previous year I was given full access to the site, and was even appointed a guide to take me across to the unfinished monolith. I came away from his office frustrated, and sensed that he was under extreme pressure both in his work, and also from the fact that very gradually he was losing the site to the Turkish Ministry of Tourism. They were in the process of erecting ugly wooden supports for a temporary roof that would provide a platform to construct a much grander covering in due course. Just maybe this was contributing to Schmidt's ill health. I don't know. All I do know is that his sudden departure from the world leaves the site in a state of flux. Clearly, the Ministry of Tourism will press on with transforming Göbekli into an open-air museum. I doubt whether Schmidt's death will affect excavations there, or mean that new enclosures are exposed any quicker. I doubt this will happen at all. But something will happen. His passing is making way for something, although what exactly nobody knows at this time. For the moment all I can say is rest in peace Professor Klaus Schmidt (1953-2014).


THE PATH OF SOULS

In June I introduced you to the new book Path of Souls by my friend and colleague Gregory Little, who in my opinion is one of the United States' leading experts on North America's mound building cultures; he has even written and published an indispensible encyclopedia on the subject (The Illustrated Encyclopedia of Native American Mounds & Earthworks, 2008, available from Amazon.com). So when he asked me to contribute to a new book about the origins of Native American star myths, and their employment of Cygnus, Orion and the Milky Way as part of a universal cosmic geography, I jumped at the chance. In the end I wrote a long foreword and a very extensive afterword, demonstrating the relationship between Cygnus and Orion in ancient cultures, and showing that these cosmological beliefs centring around the Milky Way came originally from the Eurasian continent prior to the sinking of the Beringia land bridge something around 8500 BC. Greg and I also examined the giant skeletons that have been uncovered on so many occasions in Native American mounds. We found compelling evidence that these individuals might well have been human hybrids, an admixture between the recently discovered human sub-species known as Denisovans and Archaic Modern Humans (AMH).

LIGHTNING STRIKES

Hope all you UK citizens enjoyed the dramatic displays of thunder and lightning over the past week. I am sure you all have stories to tell. I attempted to film lightning strikes from my home in southeast Essex. On Sunday, July 20, I managed to catch a dramatic lightning strike on video, which seems to show the formation of ball lightning. You can see the video at:

https://www.facebook.com/photo.php?v=801195929910691&set=vb.100000608732123&type=2&theater

I took more footage of lightning strikes last year on an old camcorder. At one point a ball of light, a plasma of some sort, is seen streaking up into the air. I need to download this footage on to a computer, and get it out there. If you are wondering about ball lightning look no further than the video at the link below:

http://www.youtube.com/watch?v=D4vV3KxQ16c

There is no way these plasma episodes would not be classed as UFO sightings if recorded under any other circumstances, which bears out what I say in the book LightQuest, published in 2012. The video also includes incredible footage of plasmas created in the laboratory. They clearly act as if they are sentient, and have the sense of newly created babies. The manner in which two plasmas leap the electrical cable is quite extraordinary. Do take a look. It is amazing stuff.

IMAO CONFERENCE

Don't forget your tickets for the IMOA Conference at Southend in Essex, UK, on Saturday, 23rd August. I shall be delivering a completely revised LightQuest lecture, bringing together plasmas, UFOs, fifth-dimensional realms, neutron stars, quark stars, cosmic intelligences, gravitational waves, the 2004 Southeast Asian tsunami, and light consciousness. MC for the day is Andy Thomas, author of The Truth Agenda. This is one of the most pleasant, easy-going conferences around. Hope to see some of you there. For more info and ticket registration, go to the following link:
http://imoaconference.co.uk/


GLASTONBURY SYMPOSIUM

I have just been asked to speak at this year's Glastonbury Symposium, which is this weekend! I stall be stepping in for my long-time friend and colleague Graham Phillips?, who I understand is poorly at this time. Get well soon Graham!! I look forward to seeing some of you there in Glastonbury on Sunday, which is the time slot of my presentation, which will be the complete "Göbekli Tepe: Genesis of the Gods" lecture as follows:

Göbekli Tepe is archaeology's greatest discovery of the twenty first century: a series of Stone Age sanctuaries built on a mountaintop ridge in southeast Anatolia (modern-day Turkey). Yet who built them, when and why? Andrew answers these questions, and shows that Göbekli Tepe was constructed as much as 12,000 years ago by human hybrids of striking appearance, recalled in myth and legend as the Watchers of the book of Enoch and the Anunnaki of Mesopotamian mythology. These individuals were tall with elongated heads and long, viper like faces. They arrived in eastern Anatolia from the north at the same time that a mini ice age gripped large parts of the northern hemisphere, an event triggered by a global impact caused most likely by a disintegrating comet.

Andrew proposes that Göbekli Tepe was built on the instructions of this highly advanced elite group in order to counter the supernatural forces seen as responsible for these recurring cataclysms. As such its megalithic enclosures, the oldest stone circles anywhere in the world, formed gateways to the sky world, quite literally stargates, enabling the shaman to access otherworldly realms. Here they could combat the baleful actions of cosmic tricksters such as the sky wolf or sky fox, whose most memorable form is that of the Fenris wolf, a supernatural creature of Norse mythology said to have brought darkness and destruction to the world at the time of Ragnorak, the twilight of the gods.

"For more on "Göbekli Tepe: Genesis of the Gods," go to

http://www.andrewcollins.com/page/articles/Go_Tep_launch.htm"

CLICK NOW TO ORDER YOUR AUTHOR SIGNED COPY

or order your copy direct from

AMAZON.COM AMAZON.CO.UK BARNES & NOBLE FOYLES OF LONDON

About the Speaker

Andrew Collins is a historical writer and explorer living in the United Kingdom. He is the author of more than a dozen books that challenge the way we perceive the past. They include From the Ashes of Angels (1996), which establishes that the Watchers of the book of Enoch and the Anunnaki of the Sumerian texts are the memory of a shamanic elite that catalyzed the Neolithic revolution in the Near East at the end of the last ice age; Gateway to Atlantis (2000), which pins down the source of Plato's Atlantis to the Caribbean island of Cuba and the Bahaman archipelago; Tutankhamun: The Exodus Conspiracy (co-authored with Chris Ogilvie Herald, 2002), which reveals the truth behind the discovery of Tutankhamun's famous tomb; The Cygnus Mystery (2007), which shows that the constellation of Cygnus has been universally venerated as the place of first creation and the entrance to the sky world since Paleolithic times; and LightQuest (2012), which shows that UFOs are most likely plasma constructs that display sentience, clear intelligence and interactional qualities. Moreover, these mysterious light forms appear to produce multi-dimensional environments and bubble universes that might well be behind the classic UFO missing time experience.

In 2008 Andrew and colleague Nigel Skinner Simpson discovered a previously unrecorded cave complex beneath the pyramids of Giza, which has brought him worldwide acclaim. It is a story told in his book Beneath the Pyramids (2009).

Andrew's latest book is Göbekli Tepe: Genesis of the Gods (2014), which reveals the role played by Göbekli Tepe in the origins of civilization, and rise of myths and legends regarding the Watchers of the book of Enoch, the Anunnaki of Mesopotamian mythology and the Garden of Eden of the book of Genesis.

For more information on Andrew Collins, go to www.andrewcollins.com."

For more on the Glastonbury Symposium, click the link below:

http://www.glastonburysymposium.co.uk


GARDEN OF EDEN TOUR

Do you want to go to the following places? Göbekli Tepe - Karahan Tepe - Harran - Nemrut Dag - Çayönü - Sanliurfa: Nimrod's Castle, Pools of Abraham, Archaeological Museum - Diyarbakir Museum - Aktamar Island Church, Lake Van - Gate of Mehr - The Garden of Eden Monastery, Mus - Fountain of Immortality, Mushka - Bingöl Mountain, terrestrial Paradise and birthplace of the Anunnaki and Watchers. Yes? Well, the Megalithomania tour of these sites, with Hugh Newman and myself, begins on September 1st, and we go to all these places in just ten days! There are still places available. Click the link below for full details and registration:

http://www.andrewcollins.com/page/articles/origins_tour_0914.htm

ORIGINS 2014 - THE UK's ONLY CONFERENCE ON THE ORIGINS OF CIVILIZATION, AND THE MYSTERIES OF THE PAST

Steiner House, London NW1 - Saturday, November 15th, 2014

Join Professor Irving Finkel, Robert Temple, Brien Foerster (by video link), Andrew Collins, Hugh Newman, and Manjir Samanta-Laughton for one extraordinary weekend of lectures, news and revelations, and a chance to share views and ideas with others on the quest of discovery. With a Sunday Walkabout around the British Museum. Click below for full details and immediate registration:

http://www.andrewcollins.com/page/conference/conferencenews.htm


PERSONAL APPEARANCES

Saturday, August 23 - 10am - 8.30pm - International Minds and Awareness Conference. Organised by the True Awareness Group. Join Andrew and the other guest speakers as he gives a talk entitled LightQuest: UFOs, Alien Intelligences and Plasma Forms - Key to Multidimensional Experiences. Click for more info.
Monday, September 01 - Wednesday, September 10 - Gobekli Tepe Finding Eden Tour. Explore Gobekli Tepe and Discover the Garden of Eden in Eastern Turkey with Andrew and Hugh Newman of Megalithomania Tours. Plus 4-day additional add on to Petra. Click for more info.

Thursday, October 02 - Sunday, October 05 - Paradigm Symposium, Minneapolis. Join Andrew as he talks about Gobekli Tepe: Genesis of the Gods with Erich von Daniken and other guest speakers. Click for more info.
Thursday, October 09 to Sunday October 12 - The ARE's Ancient Mysteries Conference. Join Andrew as he talks about Gobekli Tepe: Genesis of the Gods with Erich von Daniken and other guest speakers. Click for more info.
Thursday, October 30. Sacred Space Group. Steiner House, London NW 1. Join Andrew for a talk about Karahan Tepe and human hybrids and their role in human evolution, and the story of the Watchers of Eden. £10 admission. Concessions. Click for more info.
Saturday, November 15/16. Megalithomania and the Questing Conference present Origins 2014: The Origins of Civilization Conference. Steiner House, London NW1, 10am to 9.30pm. With presentations from Professor Irving Finkel, Robert Temple, Brien Foerster, Andrew Collins, Hugh Newman, and Dr Manjir Samantha-Laughton. London Walkabout around the British Museum. Click now for full details and immediate registration.
Thursday, December 04. Dorset Earth Mysteries Group. Audio-visual presenation on psychic questing. Venue Stapehill Village Hall, 224 Wimborne Road West, Stapehill BH21 2DY at 7:15pm Entrance £4.50. Click for more info.