TOURS OF GOBEKLI TEPE


DO YOU WANT AN EXPERIENCE OF A LIFETIME?
VISIT GOBEKLI TEPE AND THE GARDEN OF EDEN
IN THE COMPANY OF ANDREW COLLINS
| | |
| --- | --- |
| | Andrew Collins was the first to bring Gobekli Tepe to the attention of the ancient mysteries community in 2000, citing it as the key to understanding the physical existence of the Watchers of the book of Enoch and the Annunaki of Sumerian tradition. |

He visited there for the first time in 2004, and wrote extensively on the subject in his book The Cygnus Mystery, showing that its main enclosures were aligned to the star Deneb in Cygnus, c. 9500 BC. This has now been confirmed by new discoveries at the site.
He is writing again about Gobekli Tepe for new book Finding Eden, citing its place in the origins of civilization and the biblical account of the Garden of Eden.

During recent visits to Gobekli Tepe Andrew found himself inadvertently acting as a guide. He accomplished this with such ease that the now wants to share the beauty and mystique of this sacred site, the oldest in the world, with you.
Just who were the Gobekli builders? Who do the T-shaped pillars represent? Why was this sacred place built by hunter-gatherers nearly 12,000 years ago? Why was it abandoned around 8000 BC? How does its existence fit in with the age of the Annunaki gods and the coming of the Watchers, the human angels so brilliantly defined in Andrew's seminal work From the Ashes of Angels?

These are just some of the questions that will be answered both in Andrew's new book and on these unique tours.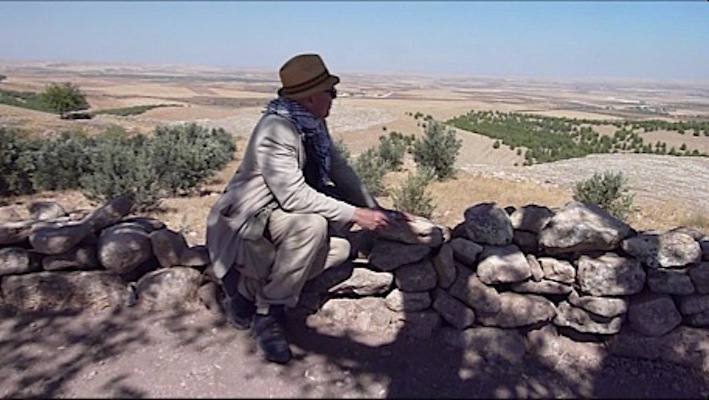 "Gobekli Tepe is the greatest challenge to archaeology ever seen" Andrew Collins
If you are interested in learning more then email Andrew now. There is no obligation. You will simply receive progress updates, prices and tour dates directly from Andrew as soon as this information becomes available.
Andrew sitting on the 7 m tall unfinished monolith near Gobekli Tepe
Remember, going to Gobekli Tepe and stepping into the terrestrial paradise can bring you no nearer to the original source of creation, expressed here so majestically with the construction of the earliest temple anywhere in the world.
Email now!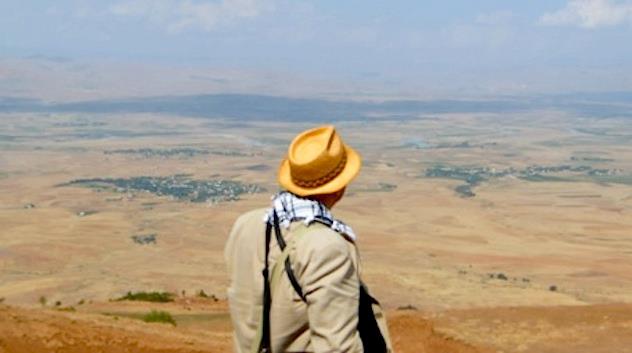 Andrew looking across at the Euphrates river
from a vantage point in the Garden of Eden